Report from the SDWG Plenary Meeting Autumn 2021
Reported by: Fujio OHNISHI (Hokkaido University)
Related research program: International Relations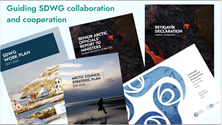 The SDWG Plenary Meeting, the first meeting after the change of the chairmanship from Iceland to Russia, was held from October 26 to 28. It was held online, as it was done last year. The meeting had originally scheduled to be held from October 5 to 7, but it was unusual to be changed to the current date at the last minute.

The plenary meeting was moderated by Ms. Abidat Magomedova, Chair of the SDWG and the Russian Ministry of Foreign Affairs. After a welcome speech by Ambassador Mr. Nikolai Korchanov, Russia's senior representative to the Arctic Council, the Chair reported both on the approval of the SDWG-Work-Plan 2021-2023 and on the preparations for the establishment of the SDWG Permanent Secretariat. The SDWG-Work-Plan 2021-2023 had been under discussion since February of this year and was adopted at this occasion. As to the creation of the SDWG Permanent Secretariat, it has been prepared with the support of the Canadian government and will be located at the Laval University campus.

The plenary meeting then proceeded in the following order: proposals for new projects, progress reports on currently operating projects, introduction of new projects in the preparation stage, progress reports from the expert groups, introduction of Russian projects that could cooperate with the SDWG, administration.

Overall, the responsibility for many projects under the SDWG had been handed over to the Russian side, but communication and coordination seemed not necessarily functioning well. For those that were not, there were calls for clarification of the decision-making process of project management. It would be partly because contacts were forced to be held online due to the COVID-19. As to the achievements, it was decisive that urgent issues were taken as two new projects, 1) Advancing Arctic Resilience focusing on countermeasures against thawing permafrost, and 2) Preserving ARCtic ARChitectural Heritage targeting conservation of archaeological sites through utilization of ICT to prevent from potential damages caused by tourism-related activities. These projects were highly evaluated and adopted by member countries.


SDWG website