Glacial pumping supports rich marine ecosystem in Greenlandic fjords -Nutrient transport processes in an Arctic fjord system-
This release is an excerpt from a press release from Hokkaido University on September 30, 2020. (in Japanese).
https://www.hokudai.ac.jp/news/pdf/200930_pr.pdf
[Points]
• Oceanographic observations in Greenland reveal the dynamics of iron and nutrients in a glacial fjord
• The marine ecosystem is supported by meltwater discharge from the glacier bed, which carries seawater upwards like a pump, thereby supplying iron and nutrients to surface of the fjord
• Contribute to predicting the future of the marine ecosystem in Greenland, where glacier melting is accelerating
[Summary]
A collaboration research group led by Naoya Kanna (present affiliation: The University of Tokyo), Shin Sugiyama, Jun Nishioka, Yasushi Fukamachi, and Daiki Nomura of Hokkaido University conducted oceanographic observations in Greenland to investigate the dynamics of iron and nutrients in a glacial fjord, which are necessary for the growth of phytoplankton supporting the marine ecosystem.
Iron-rich meltwater from the bottom of the glacier at a depth of 200 m mixes with nutrient (nitrate, phosphate, and silicate)-rich seawater and upwells to the sea surface, contributing significantly to biological production in the fjords during the summer.
There are rich ecosystems in the fjords in Greenland, where the calving glaciers flow into. If the calving glacier disappears due to global warming in the Arctic region, the function of pumping by glacier meltwater will be lost. The loss of calving glaciers is therefore expected to have a major impact on the ecosystems. This study is expected to contribute to the understanding of the impact of the accelerating glacial melt in Greenland on the fjord ecosystem.
The results of this research were published online in Global Biogeochemical Cycles on September 28, 2020. This work was supported by the Arctic research project, Arctic Challenge for Sustainability (ArCS and ArCS II), and The Japan Science Society.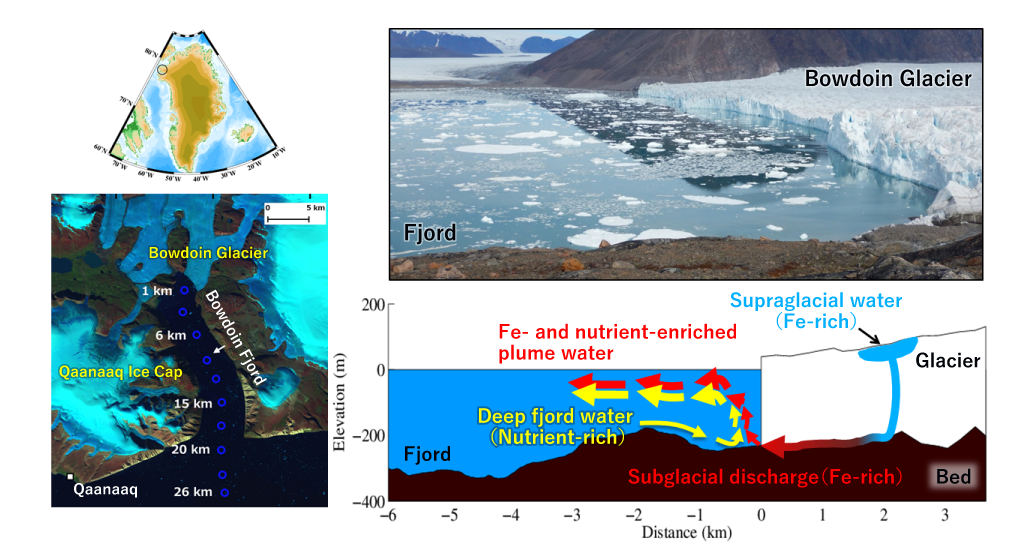 [Original paper]
Title:Iron supply by subglacial discharge into a fjord near the front of a marine terminating glacier in northwestern Greenland
Authors: Naoya Kanna1,2, Shin Sugiyama1,3, Yasushi Fukamachi1,3,4, Daiki Nomura1,4,5,and Jun Nishioka1,3
Affiliations:1Arctic Research Center, Hokkaido University, Japan, 2Atmosphere and Ocean Research Institute, The University of Tokyo, Japan, 3Institute of Low Temperature Science, Hokkaido University, Japan, 4Global Station for Arctic Research, Global Institution for Collaborative Research and Education, Hokkaido University, Japan, 5Faculty of Fisheries Sciences, Hokkaido University, Japan
Journal: Global Biogeochemical Cycles (Journal of the American Geophysical Union)
DOI: 10.1029/2020GB006567
Publication date: September 28, 2020 (Monday) (online publication)
[Contact]
JSPS Research Fellow (PD) Naoya Kanna
Atmosphere and Ocean Research Institute, The University of Tokyo
E-mail:
Professor Shin Sugiyama
Institute of Low Temperature Science, Hokkaido University
E-mail:
Information on research projects: http://wwwice.lowtem.hokudai.ac.jp/~sugishin/research/hokudai2/greenland2/greenland2.html