Report of Lobby Exhibition "Photographic history of Alaskan studies by Japanese 2"
Reported by Hiroya Noguchi (Hokkaido Museum of Northern Peoples)
Related Research Program:Human Society
The exhibition, "Photographic history of Alaskan studies by Japanese 2", co-sponsored by ArCS II, was held at Hokkaido Museum of Northern Peoples (in Abashiri City) from May 21 to June 19, 2022.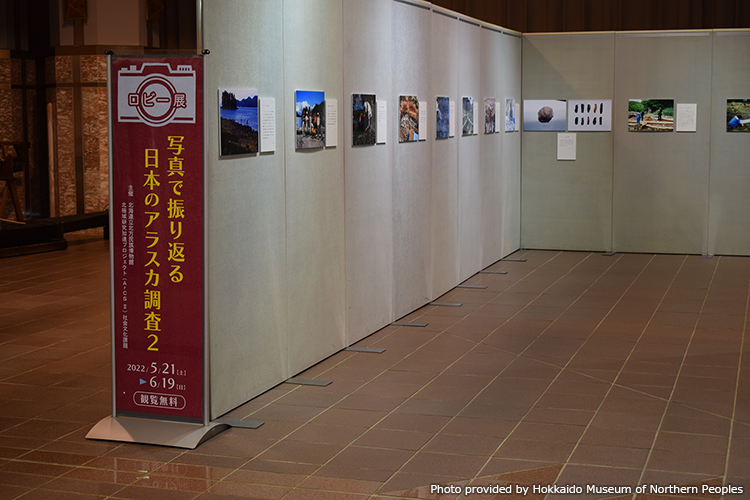 The exhibition consists of about 50 photographs selected from a total of 20,000 photographs taken by Hiroaki Okada and Atsuko Okada during their survey, which have been later digitalized under the Research Program on Human Society of ArCS II from FY2020 to FY 2021. Mr. and Mrs. Okada are known as Japanese pioneers in the field of anthropological and archeological studies of Alaska. They conducted continuous fieldwork and excavation in Alaska from 1960 to 1999. Their research covered a wide range of areas, from the tundra along the coast of the Arctic Ocean and Bering Sea to the forest of the southeast. These photographs are academically important materials that provide us with insight into the culture of Alaskan indigenous peoples and its changes, as well as the natural environment of that period.
The exhibition focused on the photographs of Southeast Alaska taken during their survey from 1987 to 1999, and introduced their archaeological research result from Heceta and Prince of Wales Islands and anthropological fieldwork in the Metlakatla community in Anette Island. Atsuko Okada wrote a commentary for each photo to help visitors understand the background and results of the research and the culture of the Alaskan indigenous people.
A lot of visitors took their time to view each photograph one by one. We are sure that the exhibition provided them with a good opportunity to deepen their knowledge of the cultures of Alaskan indigenous peoples as well as the history of Japanese anthropological and archeological studies on Alaska.
Information:Lobby Exhibition "Photographic history of Alaskan studies by Japanese 2"