Achievement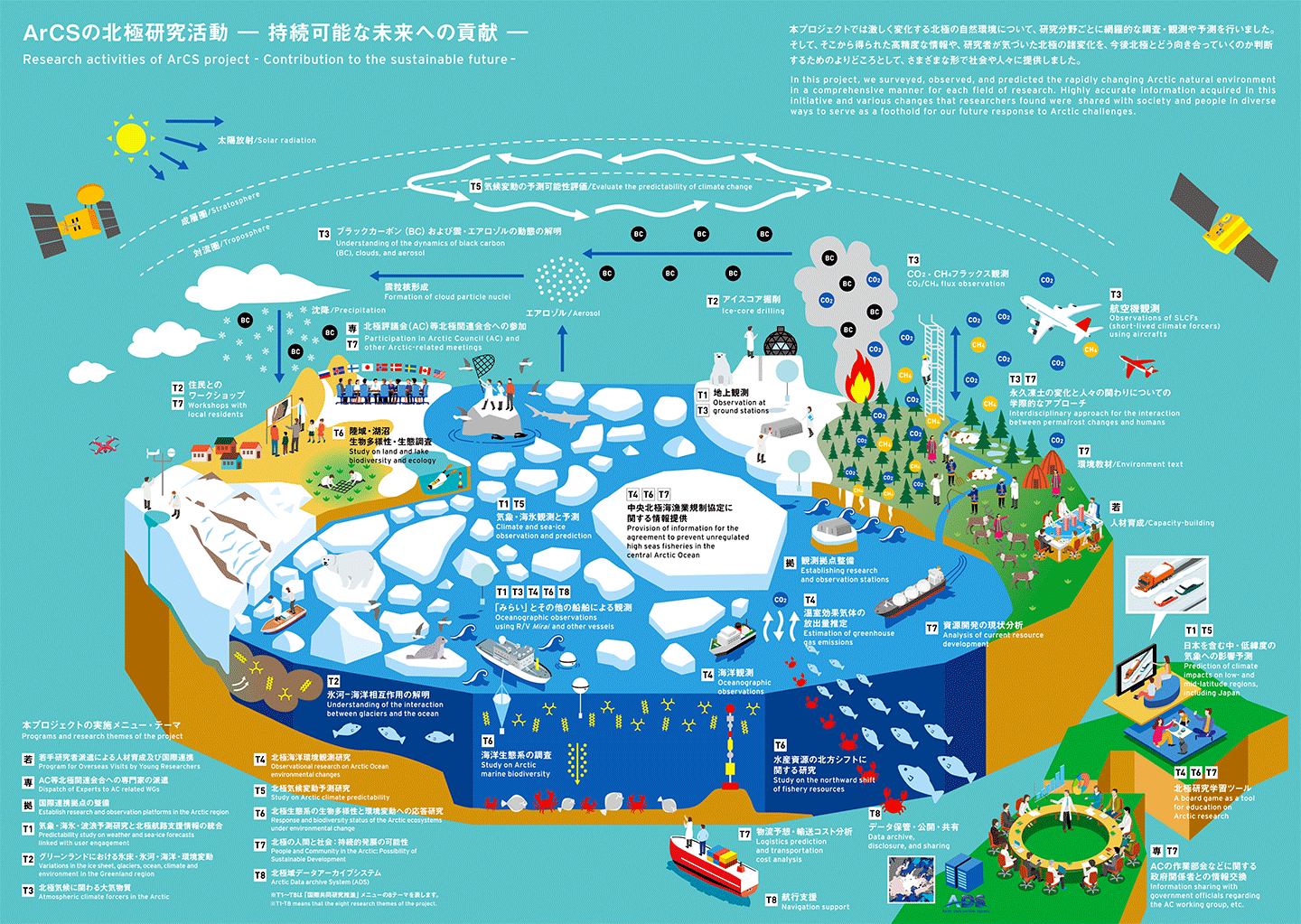 In the Arctic Challenge for Sustainability Project (ArCS), we promoted international collaborative researches, established research and observation stations in the Arctic region, and dispatched young researchers and experts to Arctic research institutions and conferences. These initiatives were carried out based on Japan's Arctic Policy, adopted in 2015 in order to provide evidentiary support for the policy outlines that Japan contributes to offering scientific solutions to Arctic issues and takes a lead in achieving an orderly and sustainable development in the Arctic region. As another important initiative, we also developed and implemented measures to actively share with society the information on scientific achievements of this project.

Scientific Achievements
The international collaborative researches that serve as a basis for achieving the goals of this project were carried out while effectively utilizing the research and observation stations, the research vessel Mirai, (R/V Mirai) and other research infrastructures. These programs were conducted through collaboration mainly among research institutions in Arctic countries and the following eight research themes designed to gain new knowledge of Arctic environmental changes based on their respective goals: natural science-related themes (Themes 1 to 6), the humanities and social sciences–related theme (Theme 7), and the data management–related theme (Theme 8). We successfully presented our findings at many academic conferences and published a number of research papers. Through the entire project, we achieved distinctive results in the following ways through the entire activity. (A) This project produced internationally recognized results grounded in the accumulated knowledge of the Japan's past Arctic research activities; (B) many findings were obtained in the international observation programs where Japan took a lead in the proposal and discussion process, or Japan played a internationally leading role in research activities, such as adopting Japanese technology as a standard measurement method; and (C) the interdisciplinary research approach became a model case for future research activities, especially in the implementation style conducted while exchanging information with local residents in the Arctic region, the creation of environmental teaching materials, and the development of educational tools.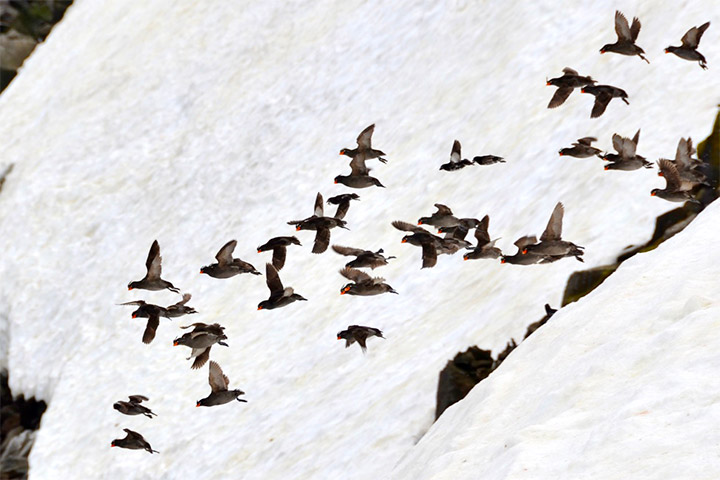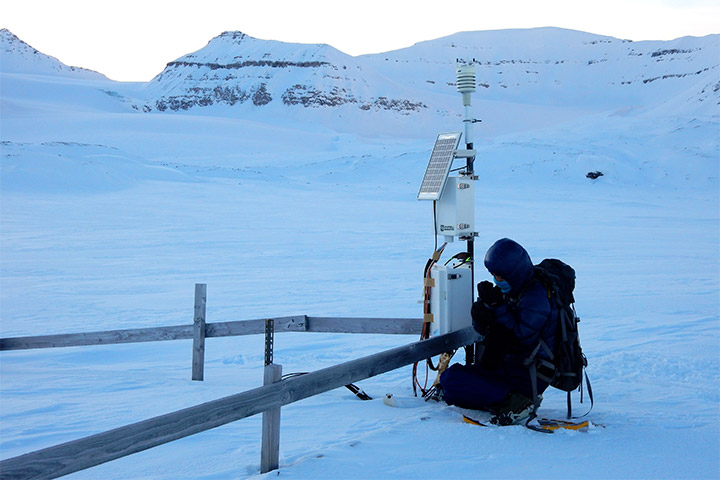 Research Infrastructure
Development of Arctic Research and Observation Stations
Since this project began, there have been an increasing number of research and observation stations and countries that have established facilities, thereby expanding Japan's presence in the Arctic research. In particular, the observation towers built in Russia and the United States were maintained to acquire climate and vegetation data, which enabled us to secure a globally rare station where we can conduct wide-ranging and long-term observations of Arctic-specific phenomena, such as the relation between snow accumulation and vegetation.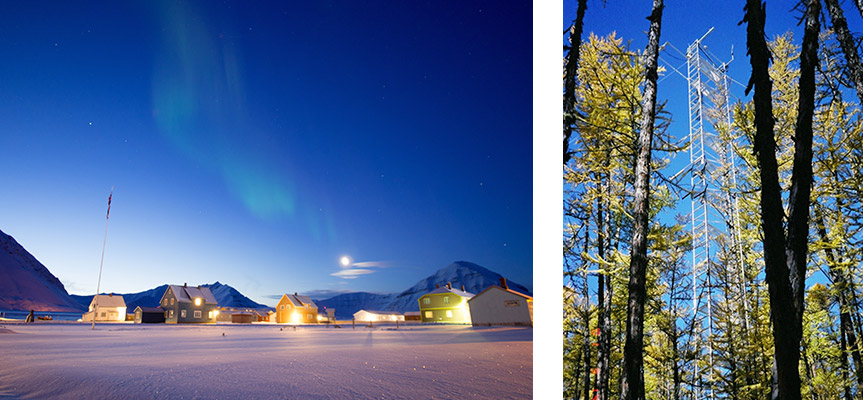 Human Resource Development and Dispatch of Experts
The Program for Overseas Visits by Young Researchers enabled to young researchers to join the discussions in the international conferences and visit research sites in the Arctic. This program was originally intended only for researchers, then became available to the private sector in 2017. On this occasion, participants were dispatched to various international Arctic conferences for a short period of time in order to gain a better understanding of the social situation surrounding the Arctic, as well as to facilitate dialogue with attendees from other countries. In addition to the dispatch of experts to the Arctic Council (AC) and other Arctic-related meetings, this initiative effectively conveyed the message that Japan does not see the Arctic only as a place for economic activity.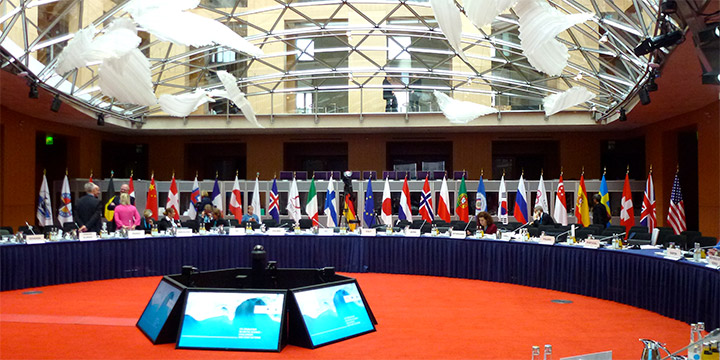 Data Management
The Arctic Data Archive System (ADS)served as a data center to collect, store, and utilize various research data obtained from this project. It is quite rare in the world that a diverse set of Arctic research data and information, from physical data to cultural anthropological data, are consolidated and publicized in a single system. This activity worked as the international collaboration of data use and also realized a step of enhancement of the social engagements.
Achievements of each programs
International Collaborative Researches

Principal Investigator(PI): Hiroyuki Enomoto (NIPR)
Principal Investigator(PI): Sei-Ichi Saitoh (Hokkaido University)
Principal Investigator(PI): Hiroyuki Enomoto (NIPR)